Keep connected with us using all the most popular social networking tools on the web!
e-READER lending service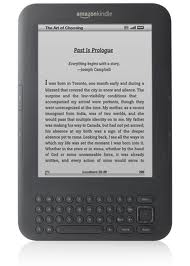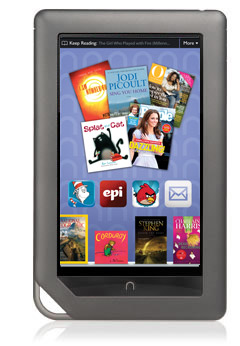 Welcome to our e-Reader lending service. This pilot program was developed to explore how Kindle and NookColor can be used effectively as an alternate tool to build up the library's ebook collection and to explore how new technologies can enhance reading and learning.
You must have a Worcester Public Library card and an email address on file to place holds.
Please read through the WPL E-Reader Agreement before requesting a device.
If you are under 18, your parent or legal guardian will be asked to sign the agreement form.
Once you have read through this page and are ready to request, choose one of the options below. On the C/WMARS catalog screen, click on Place Hold to request a device.
Option 1: NEW! A device to borrow library ebooks
If you would like to use our Kindle Paperwhite (for all ages) and select your own title from OverDrive, see a librarian at the Welcome Desk.
Option 2: Devices with preloaded titles
The eReaders are available for pick up at the main library only and cannot be sent out on loan to other libraries.
Who can borrow an e-reader?
Any Worcester public library card holder in good standing (i.e. library account is not blocked due to unpaid fees or lost materials) with at least 3 month borrowing history can check out an e-reader. The check-out limit is one e-reader per household at any time. The library reserves the right to refuse service to anyone who abuses equipment or is repeatedly late in returning e-readers.
Where do I return the e-reader when I am done?
The e-reader cannot be put in the bookdrops. The e-reader must be retuned to the Welcome Desk on the first floor. A designated staff member will do a visual check to ensure that the device and accesories are returned in good condition. Please have sufficient battery charge on the device when returning the device so the device can be checked in properly.
How long can I keep the ereader?
You can keep it for 14 days.

Can I renew my e-reader?
No. You are not allowed to renew at this time.

May I add an item from my personal Amazon Kindle or B&N account to the Library's eReader?
No. You may not add your own materials to the library's e-reader.

What are late return fines?
Fines are $5 a day, beginning on the second day overdue.

What happens if I lose it?
The cardholder or cardholder's guardian will be charged for any reader or accessory not returned to the Reference Desk or returned damaged:
Replacement Costs: NookColor
Nook device $250
Charger/adapter $25
Case $40
Total: $315
Replacement Costs: Kindle
Kindle device $140
Charger/adapter $20
Booklet $2
Case $30
Total: $192
(The project started on 10/15/2011, added Kindle Paperwihite on 7/18/2014. Contact Pingsheng Chen for more information.)

Donate or Volunteer Today!

Ask a question or send a comment - any way you like!


---