Keep connected with us using all the most popular social networking tools on the web!
Special Collections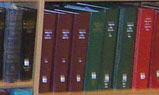 ---
ENGLISH AS A SECOND LANGUAGE (ESL) & LITERACY RESOURCES
These special resources are located on the first floor of the Library in the International Languages area.
ESL resources include:
AV materials and books to help the TOEFL student achieve English language proficiency in both reading and listening
Stepped series on learning English from specific languages
Links to Literacy resources, supporting both ESL and English-speaking Literacy students, include:
Books and cassettes from very easy reading to more difficult reading and listening levels
Readings and workbooks on the topics of jobs, grammar, finances, government citizenship etc.
---
CITIZENSHIP INFORMATION CENTER
The Worcester Public Library's Citizenship Information Center is located on the 1st floor of the Main Branch near the ESL and Foreign Language collections. The Center includes books, cds, dvds, flashcards, flyers and informational brochures about:
Requirements for Naturalization
Preparing for the test and interview
U.S. Civics
Citizenship classes
The library also subscribes to LearningExpress Library, an electronic resource which provides practice tests and helpful courses to help you every step of the way.
Citizenship classes at WPL
The library holds citizenship classes every Wednesday to help prepare you to take the Naturalization test. The classes cover all the information you'll need to know in order to pass. To register for a class please sign up at the 2nd floor reference desk or email Mary Cocorochio.
Important Links
---
GRANTS RESOURCE CENTER
Your Local Funding Information Resource
The Library is a Funding Information Network partner of the Foundation Center.
The Funding Information Network is comprised of libraries, community foundations, NGOs, and nonprofit resource centers in all 50 states and Puerto Rico, plus a dozen other countries. As a Network partner, Worcester Public Library provides free access to the best and most comprehensive information available on foundation and corporate giving resources useful to the first-time grantseeker, seasoned fundraiser, and individuals seeking educational funding.
Free Information for Nonprofits about Funding Sources

Designed to serve the needs of grant seekers, funders and donors, and offers information to nonprofit organizations and individuals.
Targeted primarily to nonprofit 501c(3) organizations that receive private foundation grants, and whose purposes are charitable, educational, scientific, religious, literary, or cultural.
Grants Resource Center's collection includes:

Print material on foundation, corporate and government funding
Databases providing quick access to funders nationwide
Resources on fund-raising, non-profit management, proposal writing and budgeting
Free public access to:
Foundation Directory Online
In-depth information on nearly one million grant opportunities from over 120,000 grant makers, including grant maker profiles, grants publications and 990s — all updated weekly.
Foundation Grants to Individuals
A database of foundations that provide individuals with funding support for scholarships, fellowships, program development, research, awards and more.
Philanthropy In/Sight©
The Foundation Center's premier program for visually displaying patterns of giving, funding relationships, areas that currently benefit from philanthropic impact — and areas that need it most.
The databases are only available within the Main library building and accessible by using the library's computers or wifi network.
Location and hours:
Located on the third floor of the Worcester Public Library at 3 Salem Square, Worcester, MA, the Center is free and open to the public during all regular library hours. No appointment necessary.
Free orientation:
• An overview of the funding research process and demonstration on the use of the Center's paper and electronic resources.
Call 508-799-1655, Option 3 to learn about orientation dates and registration information.
Do you own a device that can access wireless internet?
If you do, you can avoid computer time limits and directly save your information by using these databases through the Library's wireless internet access. Wireless access is free and does not require a library card. Ask a staff member for assistance.
FYI
The Center does not give grants, write grants, or perform grant research. It is an information resource.
Grants Collection Supervisor
Mora McAvey mmcavey@worcpublib.org 508-799-1663
---
World LANGUAGES
The International Languages Collection reflects the needs of a Worcester's diverse population and is a vital part of the library. Located on the 1st floor of the library near the Information Desk, this collection includes:
More extensive number of titles in Chinese, French, German, Polish, Russian, Spanish and Vietnamese languages.
Less extensive number of titles in Albanian, Armenian, Greek, Hungarian, Italian, Lithuanian and Portuguese languages.
Magazines and newspapers are available in Albanian, Chinese, French, German, Greek, Lithuanian, Russian, Spanish, and Vietnamese.



Back issues of magazines and newspapers may be checked out.
Back issues of newspapers and magazine are not kept.
Films in non-English languages are shelved in the Audiovisual area.
---
MAGAZINES AND NEWSPAPERS
The Library's collection of over 400 magazines and over 50 newspapers can be found in the Periodicals area on the 3rd floor.
Magazines holdings include:
Non-circulating magazines
Current issues are on display in the Periodicals area.
Earlier issues may be requested at the Periodicals desk.
19th and early 20th C magazines may be requested at the Periodicals Desk.
Circulating magazines that may be checked out:
Selected popular magazines – on display in the Periodicals area on the 3rd floor.
Circulating large-type (LT) magazines - on display in the Periodicals area on the 3rd floor.
Non-English language magazines - on display in the International Languages area on the 1st floor.
Newspaper holdings include:
Sunday papers: from New England capital cities and major US cities.
Daily newspapers: Worcester Telegram & Gazette, Boston Globe, Boston Herald, New York Times, Washington Post, Wall Street Journal.
Non-English language newspapers:
On display in the International Languages area on the 1st floor.
Some Worcester County town newspapers are located in the Local History and Genealogy area on the 3rd floor.
On-line magazines and newspapers:
Magazines from 1980's on : Infotrac- http://www.worcpublib.org
Newspapers, full text, from 1989: Newsbankhttp://www.worcpublib.org
(Worcester Telegram & Gazette, Boston Herald, Boston Globe)
Indexes provide subject access to over 500 magazines and newspapers:
Infotrac indexes articles in hundreds of magazines and journals
Print indexes: 19th & 20th Century subject access to magazines
Business, Art, Applied Science, Library Literature, Reader's Guide
---
U.S. GOVERNMENT DOCUMENTS COLLECTION
Worcester Public Library is the largest selective depository of Federal documents in Central Massachusetts. It has been a depository since 1859, and holds many 19th century documents. The entire collection exceeds 300,000 documents.

Documents are available in various formats; paper, microform, CD-ROM, DVD, kits and online.

Special areas include: Federal statistical census 1790 to present; Manuscript census 1790 to 1930; Civil War records; Native American studies.

Donate or Volunteer Today!

Ask a question or send a comment - any way you like!


---