Keep connected with us using all the most popular social networking tools on the web!
Special Collections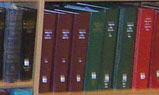 ---
ENGLISH AS A SECOND LANGUAGE (ESL) & LITERACY RESOURCES
These special resources are located on the first floor of the Library in the International Languages area.
ESL resources include:
AV materials and books to help the TOEFL student achieve English language proficiency in both reading and listening
Stepped series on learning English from specific languages
Links to Literacy resources, supporting both ESL and English-speaking Literacy students, include:
Books and cassettes from very easy reading to more difficult reading and listening levels
Readings and workbooks on the topics of jobs, grammar, finances, government citizenship etc.
---
CITIZENSHIP INFORMATION CENTER
The Worcester Public Library's Citizenship Information Center is located on the 1st floor of the Main Branch near the ESL and Foreign Language collections. The Center includes books, cds, dvds, flashcards, flyers and informational brochures about:
Requirements for Naturalization
Preparing for the test and interview
U.S. Civics
Citizenship classes
The library also subscribes to LearningExpress Library, an electronic resource which provides practice tests and helpful courses to help you every step of the way.
Citizenship classes at WPL
The library holds citizenship classes every Wednesday to help prepare you to take the Naturalization test. The classes cover all the information you'll need to know in order to pass. To register for a class please sign up at the 2nd floor reference desk or email Mary Cocorochio.
Important Links
---
The Grants Resource Center (GRC) is located on the 3rd floor of the Main Library.
The GRC is an affiliate of the Foundation Center in New York City, whose primary function is to provide information on funding for non-profit organizations.
Access to these databases is free, within the Mainlibrary only, through our internet computers, a wifi connection, or at the special computer in the Grant's area. The library's grant center also has print directories of corporate, private foundations and government funding; and a number of reference materials on fundraising, non-profit management and proposal writing.
Please note: There is very limited information on grants for individuals.
Free orientations, providing an overview of the grant seeking process and on how to use the GRC resources to find funding opportunities, are provided during the year
The workshop covers:
What you need to have in place before you seek a grant.
How you identify funding partners.
How you can use the library's resources for your grant seeking efforts.
Grant proposal writing is not covered.
Pre-registration is required. Please call (508) 799-1655 to learn about orientation dates and registration information.
---
World LANGUAGES
The International Languages Collection reflects the needs of a Worcester's diverse population and is a vital part of the library. Located on the 1st floor of the library near the Information Desk, this collection includes:
More extensive number of titles in Chinese, French, German, Polish, Russian, Spanish and Vietnamese languages.
Less extensive number of titles in Albanian, Armenian, Greek, Hungarian, Italian, Lithuanian and Portuguese languages.
Magazines and newspapers are available in Albanian, Chinese, French, German, Greek, Lithuanian, Russian, Spanish, and Vietnamese.



Back issues of magazines and newspapers may be checked out.
Back issues of newspapers and magazine are not kept.
Films in non-English languages are shelved in the Audiovisual area.
---
MAGAZINES AND NEWSPAPERS
The Library's collection of over 400 magazines and over 50 newspapers can be found in the Periodicals area on the 3rd floor.
Magazines holdings include:
Non-circulating magazines
Current issues are on display in the Periodicals area.
Earlier issues may be requested at the Periodicals desk.
19th and early 20th C magazines may be requested at the Periodicals Desk.
Circulating magazines that may be checked out:
Selected popular magazines – on display in the Periodicals area on the 3rd floor.
Circulating large-type (LT) magazines - on display in the Periodicals area on the 3rd floor.
Non-English language magazines - on display in the International Languages area on the 1st floor.
Newspaper holdings include:
Sunday papers: from New England capital cities and major US cities.
Daily newspapers: Worcester Telegram & Gazette, Boston Globe, Boston Herald, New York Times, Washington Post, Wall Street Journal.
Non-English language newspapers:
On display in the International Languages area on the 1st floor.
Some Worcester County town newspapers are located in the Local History and Genealogy area on the 3rd floor.
On-line magazines and newspapers:
Magazines from 1980's on : Infotrac- http://www.worcpublib.org
Newspapers, full text, from 1989: Newsbankhttp://www.worcpublib.org
(Worcester Telegram & Gazette, Boston Herald, Boston Globe)
Indexes provide subject access to over 500 magazines and newspapers:
Infotrac indexes articles in hundreds of magazines and journals
Print indexes: 19th & 20th Century subject access to magazines
Business, Art, Applied Science, Library Literature, Reader's Guide
---
U.S. GOVERNMENT DOCUMENTS COLLECTION
Worcester Public Library is the largest selective depository of Federal documents in Central Massachusetts. It has been a depository since 1859, and holds many 19th century documents. The entire collection exceeds 300,000 documents.

Documents are available in various formats; paper, microform, CD-ROM, DVD, kits and online.

Special areas include: Federal statistical census 1790 to present; Manuscript census 1790 to 1930; Civil War records; Native American studies.

Donate or Volunteer Today!

Ask a question or send a comment - any way you like!


---